[ Home Page | Recordings | Calendar | E-Mail ]
---
Wild Asparagus is a five-person band from Western Massachusetts. Drawing upon music from New England, the British Isles, and Canada, as well as classical sources, Wild Asparagus takes an original approach to the traditional dance music of our folk heritage. Using their unique blend of instruments, creativity, and skills, they offer a sensitive and powerful performance. Since 1984, Wild Asparagus has been highly successful in bringing their music to dances and concerts throughout the United States.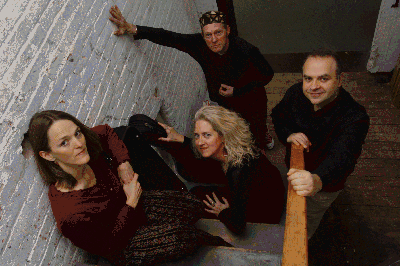 Photo by Toby

The heartbeat of Wild Asparagus is Ann Percival on piano, guitar, and vocals. Ann's playing is highly inventive while still maintaining an irresistible rhythm. David Cantieni, a wood-wind wizard, pours forth lively melodies and liquid harmonies on his flutes, tin-whistle, oboe, saxophone and bombard. Becky Tracy's masterful fiddling is that rare combination of energy and beauty. George Marshall is an accomplished English concertina player and also provides driving rhythms on bodhran and bones. We usually play with a bass player, some of our regular players include Corey DiMario, Mark Murphy, Harry Aceto and Ralph Gordon among others. George also provides excellent instruction and calling for New England style contras.

Wild Asparagus has appeared at numerous major festivals and dance events throughout the United States, Canada, and Alaska. Upcoming special events include the Tropical Dance Vacations and Dance-a-Rama. Look at our schedule page for other upcoming appearances.

Recordings
Wild Asparagus currently has seven recordings available.
---
How To Reach Us
Add your name to our e-mailing list.
For bookings, copies of our recordings (order form) or other information, please write us at:
PO Box 602
Belchertown, MA 01007

105 Hawks Road
West Deerfield, MA 01342

Or send e-mail to: band@wildasparagus.com
---
Maintained by George Marshall || Formatting by Griffin Digital Consultants and Roger Chen& Tracey Paquette.
©1999 Wild Asparagus, All Rights Reserved.

Last update: 12 April 2007