David Cantieni - Celtic Woodwinds

Red Rock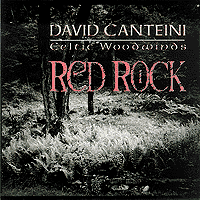 "A project such as this cannot happen without the unbridled support of many people. Thanks is not nearly enough for you Sam Bartlett and Sue Sternberg who were gung ho about this album almost before I knew I was going to make one. Then you went and cleared time in your busy schedules to rehearse and record. More than thanks is also due to everyone else on the album, Becky Tracy, George Marshall, Mark Roberts, Stuart Kenney, Rick Ruggles, Mary Witt, sine qua non Ann Percival and Pete Sutherland."
-- David Cantieni
Catalogue #DM9601 / Dig Dig Music
Tune List

McGlinchy's / Marble Halls of Learning / P.J. McComiskey's
Red Rock Reels
Waltz in a Blue Moon for Katherine
Collier's Reel
Streets of London / Kontny's Yard
Scatter the Mud / Out on the Road / The Swaggering Jig
Matt Malloy's / Arigna Coal Minor / Cooley's Reel
Piper on Horseback
Blind Mary
The Yellow Tinker / Ann's Salvation / Dwyer's
The Cloon / My Needs
The March of the King of Laois
The Baker / After the Bomb / Big Red
Magic Foot
Carribe Groove
---
[ Back to George Marshall's Home Page | Back to Wild Asparagus Home Page ]
---
©1997 David Cantieni, All Rights Reserved.